PayIn/PayOut in Back-Office
Pay in / Pay out View
Back-Office -> Side Nav -> PayIn/PayOut

| Pay in/pay out in side nav | pay in/pay out screen |
| --- | --- |
| | |
| Number | field name | description |
| --- | --- | --- |
| 1 | Date range | Date range to select pay in/pay out transactions |
| 2 | Branch | Branch filter |
| 3 | Net inflow | Net cash inflow to cash till only from pay in/pay out transactions. |
Difference between Pay in / Pay out and Income / Expenses

Pay in and pay out operations are merely cash till operations related to a shift. Whereas income / expenses directly come in as business income or expenses (in the P&L of the business). Income & expenses not necessary to be made from cash tills, they can be made from the bank account, petty cash account, etc. But sometimes a pay in or pay out can be considered as an income or expense at the same time.

Ex:
| Transaction | is pay in/pay out? | is income/expense? |
| --- | --- | --- |
| Employee cash advance from cash till | Pay out | - |
| Bill payment from cash till | Pay out | Expense |
| Employee salary from bank account | - | Expense |
| Employee cash advance payback to cash till | Pay in | - |
But it's important to notice that a pay in/pay out can be marked as an income/expense from the back-office pay in/pay out screen. This will automatically create a corresponding entry in income/expenses. It's described under pay in/pay out sub topic.
Create Income / Expense from Pay in / Pay out
Back-office -> pay in/pay out screen -> select pay in/pay out entry -> click "mark as income/expense" button

Select pay in / pay out & click "mark as income / expense" button: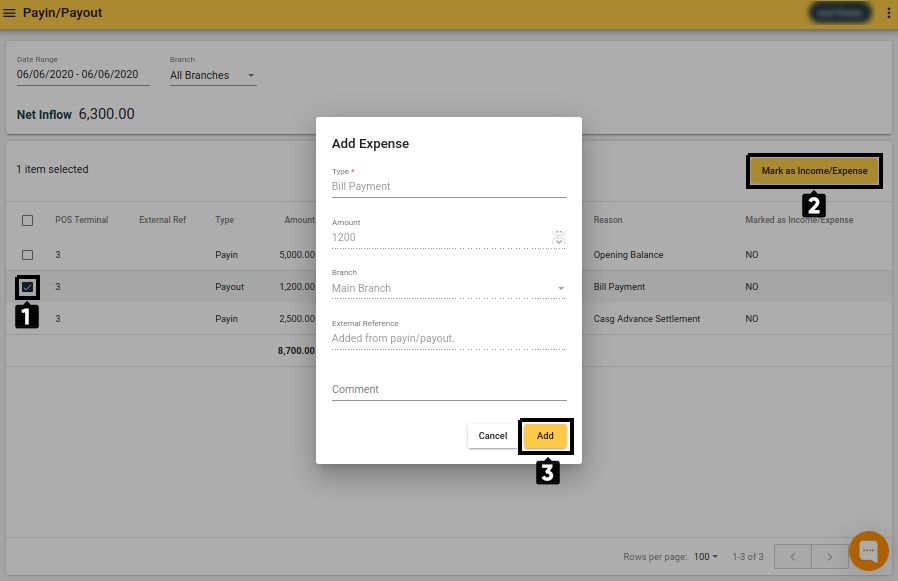 Income / expense created: