Back-Office Settings Hierarchy
Locating Settings Screen
Back-Office -> Side Nav -> Settings

| Locating settings screen | Settings screen |
| --- | --- |
| | |
Settings Categories

Back-office settings are organized into several categories for making it easy for the users to locate a settings. They are described below.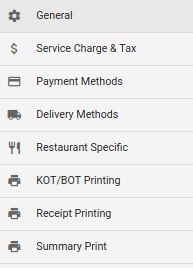 | Settings category | Description |
| --- | --- |
| General | General settings applied across the system. Specially in most common areas such as order taking and billing. |
| Service charge & tax | Configure service charge & taxes. |
| Payment methods | Configure payment methods that can be used for POS billing. |
| Delivery methods | Configure delivery methods used by the business. |
| Restaurant specific | General settings specific to restaurant type businesses. |
| KOT/BOT printing | KOT/BOT Printing related Setting (restaurant specific). |
| Receipt printing | Printed bill template and bill printing related Settings. |
| Summary print | Shift & day summary related settings. |
Company Level & Branch Level Settings

Back-office settings are specified at company level by default. So they are applied across branches to all employee logins. But each one of those configs can be overridden at branch level in case required.

Once a user navigate to back-office settings screen, the default selection is company level.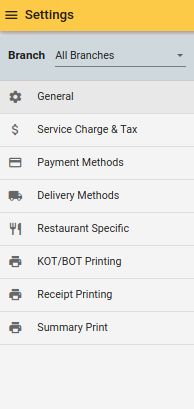 The dropdown in categories pane can be used to select a branch and then specify Setting values at that branch level. After this is done, that overridden setting will only apply to the employee accounts attach to that particular branch.